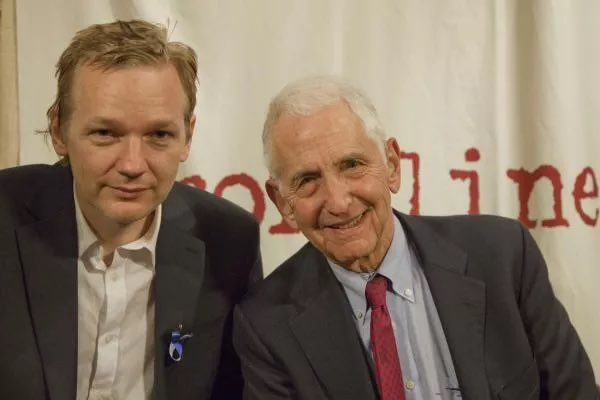 June 16, 2023 — Daniel Ellsberg, Pentagon Papers whistleblower and an icon of movements for peace and the freedom of the press, has died today at the age of 92. Daniel was a co-chair of the Assange Defense Committee, and he testified in Julian Assange's extradition hearing in 2020.
In 1969, inspired by antiwar draft resisters, Daniel leaked the Pentagon Papers — a damning 7,000-page Top Secret report of the U.S. war in Vietnam exposing the deceit of public rhetoric over the conflict — to the New York Times and Washington Post and was nearly sent to prison for life under the Espionage Act of 1917. Daniel's case was dismissed in 1973 when the judge learned that prosecutors had broken into Ellsberg's psychiatrist's records in an attempt to discredit his mental state in court.
Daniel has spent the last half century continuing to fight for peace and justice, speaking out against war and attempts to justify it, supporting whistleblowers like Chelsea Manning and Edward Snowden, and warning of the dangers of U.S. nuclear war policy.
Assange Defense director Nathan Fuller said,
Ellsberg and Fuller at a rally for WikiLeaks whistleblower Chelsea Manning in 2012

"We knew it was coming and still I am crushed by the loss of Daniel Ellsberg. The way Daniel chose to live his life, down to his last days, he has left behind a blueprint for the rest of us whose conscience finds us at odds with the world around us. He never gave up in his struggles for peace, for press freedom, and for nuclear disarmament.

His specific contributions to the defense of Julian Assange alone are incredible. Nearing age 90, Daniel became the co-chair of Assange Defense — not just a figurehead, he participated in webinars, authored op-eds, and was a soundboard for ideas and actions. He testified in Julian's extradition hearing, expertly deconstructing the prosecution's attempt to disparage Assange and standing up for the right to publish in the public interest.

I am so lucky to have counted Daniel as a friend, let alone to have worked alongside him in the fight for truth and justice. Thank you, Daniel, we will miss you dearly."
Ellsberg testified in Julian Assange's extradition hearing in London in September 2020. In cross-examination, prosecutors attempted to draw a distinction between Ellsberg — who is now widely lauded as a heroic whistleblower — and Assange. Daniel explicitly rejected this false dichotomy and explained how Assange and WikiLeaks' publications were similarly in the public interest.
"My own actions in relation to the Pentagon Papers and the consequences of their publication have been acknowledged to have performed such a radical change of understanding. I view the WikiLeaks publications of 2010 and 2011 to be of comparable importance."
Ellsberg explained that this tactic is an effort to turn public opinion against those charged with Espionage for engaging in acts of whistleblowing:
Ellsberg said at the time of his releases, he was harshly criticized, the way Snowden and Manning and Assange are now. Then for a long time he was ignored. And now that these new releases have come out, WikiLeaks' in 2010 and Snowden's NSA revelations in 2013, all of a sudden commentators were contrasting them with him, referring to Ellsberg positively "to draw some contrast between us."

"I totally disagree with the 'good Ellsberg / bad Assange' theory," he said. "Except for the computer aspects which didn't exist back then, I see no difference between the charges against me and the charges against Assange."
Ellsberg in support of Julian Assange
Daniel Ellsberg: Espionage Charges Against Assange Are Most Significant Attack on Press in Decades
Indict Us Too: Daniel Ellsberg & Cryptome's John Young Demand US Drop Charges Against Julian Assange
Daniel Ellsberg on Julian Assange's Espionage Charges
---
More remembrances for Daniel Ellsberg
Kevin Gosztola, The Dissenter | The Loving Truth-Teller That Was Daniel Ellsberg
Seeing Dan's life announcement, and the warm responses to it, made it easier for me to accept that one of the best human beings I have ever known had come to the end of his life.

Dan was not at peace with the world around him. Wars and the threat of nuclear armageddon motivated him to do several more interviews while he could still speak with reporters. But he did feel joy and gratitude having lived his life unapologetically as a peace activist and truth-teller—someone who embodied the idea of the moral imperative.

For the rest of my life, I will cherish the fact that I was one of the first journalists who Dan spoke with on his farewell media tour and that I had the privilege of interacting and sharing his wisdom with the world for over a decade.
Chip Gibbons, Jacobin | Daniel Ellsberg, American Hero
"In his email announcing his terminal cancer, the threat of nuclear war was clearly weighing heavily on Ellsberg's mind. Stating that the world risked nuclear war over Ukraine or Taiwan, Ellsberg wrote, "It is long past time — but not too late! — for the world's publics at last to challenge and resist the willed moral blindness of their past and current leaders. I will continue, as long as I'm able, to help these efforts."

While he viewed the world as close to catastrophe as ever, he noted, "I'm happy to know that millions of people — including all those friends and comrades to whom I address this message! — have the wisdom, the dedication and the moral courage to carry on with these causes, and to work unceasingly for the survival of our planet and its creatures."

When I interviewed him for the fiftieth anniversary of the Pentagon Papers' release, it was clear that he was far less interested in reminiscing about the past than carrying forward his urgent work to avert nuclear war and reform the Espionage Act. Honoring Ellsberg requires not just recalling him as a historic figure, but carrying on his work and legacy to dismantle the machinery of war that has claimed far too many lives and end its accompanying regime of secrecy that crushes truth-tellers while granting impunity to war criminals."