Harold Washington College
30 Last E. Lake St.
Room 102
February 23
@
5:30 pm
–
7:00 pm
America/Chicago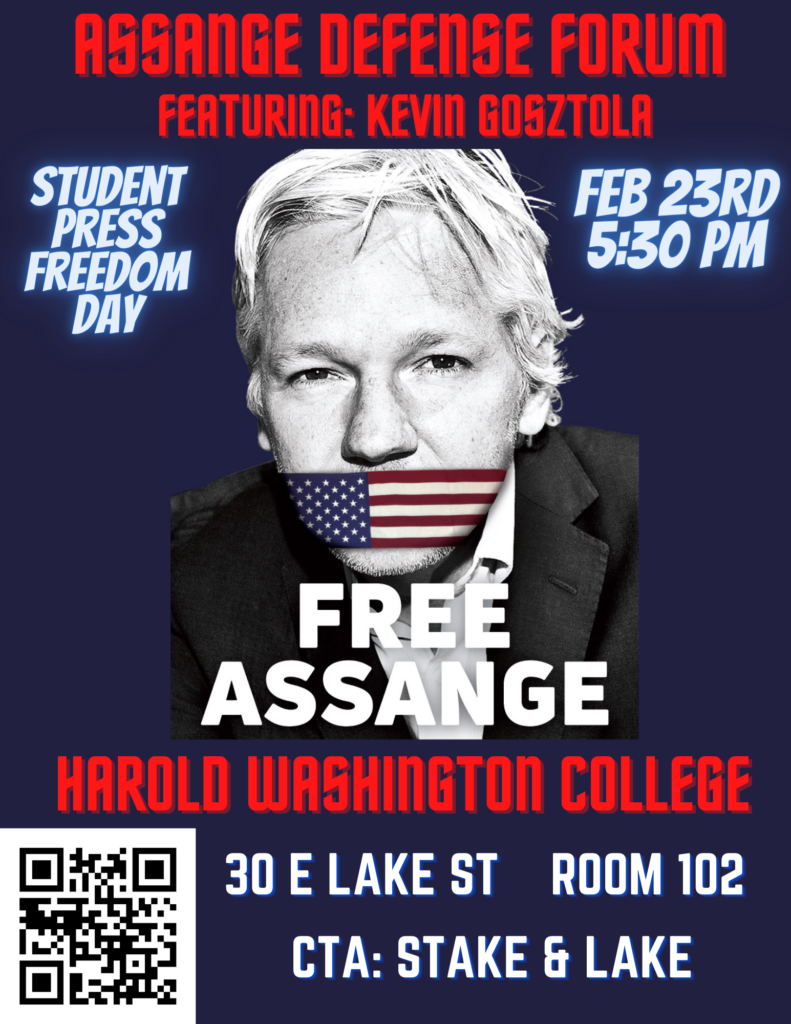 Come celebrate Student Press Freedom Day by taking part in a forum focused on the threat to Freedom of The Press represented by the case for extradition against Julian Assange.
Kevin Gosztola will be the featured speaker. He is an author known for his stellar work on whistleblowers cases, WikiLeaks, national security and civil liberties He is managing editor of Shadowproof, where he writes The Dissenter. Gosztola has previously covered the court martial of Chelsea Manning, The case of CIA whistleblower John Kiriakou and extensively covered the extradition case against Julian Assange
Gosztola has written for the Nation, Salon and many other journals of note. He co-authored, with Greg Mitchell Truth and Consequences: The US vs. Bradley Manning. Since 2014, Gosztola has co-hosted, with Rania Khalek, the podcast Unauthorized Disclosure. Kevin will be discussing his soon to be released Guilty of Journalism: The Political Case Against Julian Assange.
This new work examines abuses of power by the CIA and the FBI, including a spying operation that targeted Assange's family, lawyers, and doctors. Guilty of Journalism offers a balanced and comprehensive perspective on all the events leading up to what press freedom advocates have called the trial of the century.

Guilty of Journalism is a joint production of The Censored Press and Seven Stories Press.
Parking is limited. However the closest CTA stop is State & Lake
free