Community Church of Boston 565 Boylston St.
In-Person/Online
February 23
@
6:30 pm
–
8:00 pm
America/Boston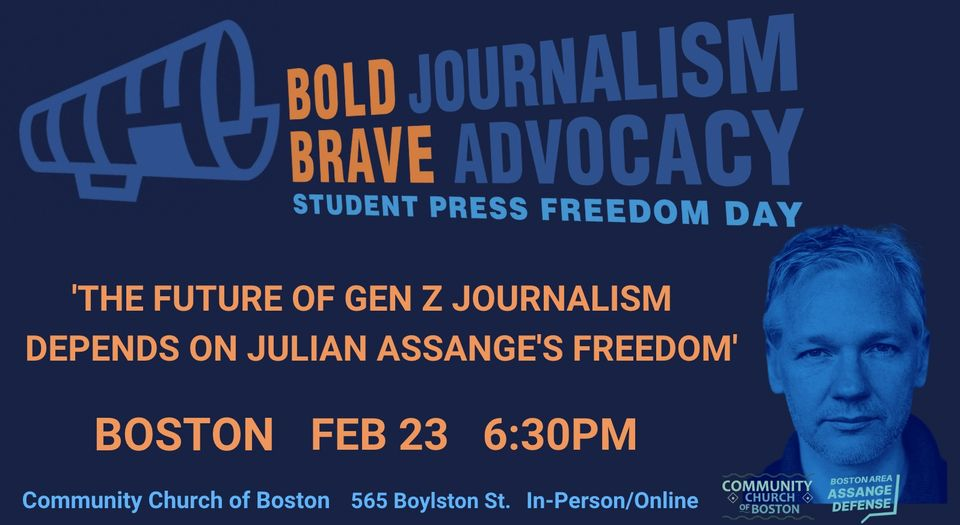 Please join us in person at the Community Church of Boston, or online, for a panel discussion on how the Julian Assange case will impact the future of journalism. This event is part of the fifth annual Student Press Freedom Day initiative.
The reality is that 'Bold Journalism' has landed Julian Assange in a supermax prison for publishing the most important journalistic work of this century. Our First Amendment rights are threatened by this unconstitutional prosecution of a journalist.
An accomplished panel of journalists and activists will have a conversation about the Assange prosecution (its threat to journalism), independent media v. corporate media, and the importance of a free press in the workplace. Censorship is driving the current trend for respected, award-winning journalists like Glenn Greenwald, Matt Taibbi, and Seymour Hersh to self-publish on platforms such as Substack.
Guest speakers:
"The Student Press Law Center (SPLC) created Student Press Freedom Day to give student journalists a platform to advocate for press freedom in their communities." SPLC's article, 'Responding to Censorship' advises students that, if their school-sponsored student media is consistently being censored, they may want to consider an alternative means of getting their message out. Off -campus websites or underground, independently published student publications are entitled to significant First Amendment protections.
Students and citizens alike are entitled to a free press so that we can make informed decisions.
We must fight against censorship and the criminalization of investigative journalism. We must show 'Brave Advocacy' to end the prosecution of Julian Assange!
Can't make this conversation in person? Join us online!
Questions? Contact Paula Iasella at AssangeBoston@gmail.com