September 24, 2020
See an overview of USA v. Julian Assange here
See a thread of live-tweets of today's hearing here
Cryptome published unredacted cables first; medical testimony continues
At the very end of today's proceedings, the defense read aloud an important and consequential witness statement from John Young, host of cryptome.org.
"I published on Cryptome.org unredacted diplomatic cables on September 1, 2011 under the URL https://cryptome.org/z/z.7z and that publication remains available at present.
…
Since my publication on Cryptome.org of the unredacted diplomatic cables, no US law enforcement authority has notified me that this publication of the cables is illegal, consists or contributes to a crime in any way, nor have they asked for them to be removed."
The statement is a critical piece of evidence against the U.S. government's indictment of Assange for publishing the unredacted diplomatic cables in 2011. The prosecution must prove "dual criminality," that Assange's alleged offenses in the U.S. would be a crime in the U.K. as well. Republishing classified documents is not a crime under the U.K.'s Official Secrets Act the way that publishing them is.
This witness statement corroborates previous testimony from John Goetz and others on the chronology of events, that WikiLeaks was not the first to publish the unredacted cables and in fact took great care to prevent names from being disclosed.
The defense also read a statement from Christopher Butler of the Internet Archive, also known as the Wayback Machine, a U.S.-based historical internet record based on snapshots of websites over time. Butler confirms that the Internet Archive still to this day hosts records of WikiLeaks' publications and that the U.S. government has never attempted to take this data offline.
Medical experts on the dangers of extradition
Today's proceedings mostly consisted of live testimony from Dr. Nigel Blackwood, the prosecution's psychiatrist who interviewed Assange in prison, and Dr Sondra Crosby, who visited Assange multiple times in the Ecuadorian Embassy and again in Belmarsh. Once again, because this testimony dealt with Julian's personal medical condition and history, we'll try to summarize the relevant portions rather than provide every detail.
Dr Nigel Blackwood is a consultant forensic psychiatrist with the NHS, and he produced a report for the prosecution on Assange's mental health and his suicide risk in the event of extradition. Dr. Blackwood has previously provided testimony supporting extradition in the case of Korcala v Polish Judicial Authority in 2017.
Medical testimony is used to establish whether "the physical or mental condition of the person is such that it would be unjust or oppressive to extradite him", as that would violate Section 91 of the U.K.'s 2003 Extradition Act, and to prevent violation of Article 3 of the European Convention on Human Rights, which states "No one shall be subjected to torture or to inhuman or degrading treatment or punishment."
Dr. Blackwood determined Assange to be "moderately depressed" and acknowledged, "There is undoubtably some risk of suicide attempt in the event of extradition," but he doesn't feel that it rises to a "high risk." Blackwood relied on the standard established in USA v Turner, that the person facing extradition must be "capable of controlling" their own risk of suicide, and he found that Assange, whom he called a "very resilient" and "resourceful" man, would be capable of doing so.
In addition to USA v Turner, there is also relevant precedent in USA v Lauri Love, in which the U.K.'s High Court overturned the lower court judge's ruling that Love could be extradited because the judge relied too heavily on the assurances that the U.S. Bureau of Prisons could provide adequate mental health care and prevent suicide in prison.
Defense lawyer Ed Fitzgerald therefore asked Dr. Blackwood for his to comment as to whether the conditions Assange would be detained under in the United States could be said to be "broadly equivalent" to those in the U.K. At issue are both pre-trial conditions and prospective post-trial conditions. The defense and prosecution agree that if extradited, Assange would be held before trial at Alexandria Detention Center (ADC) in Virginia. The defense argues that if convicted, Assange would be sent post-trial to ADX Florence, a Supermax prison in Colorado. The prosecution doesn't confirm that Assange would be sent there but provides evidence regarding the facility to respond to the defense's arguments.
In court, Dr. Blackwood admitted that he made his determination relying on the U.S. government's supportive affidavit from assistant U.S. attorney Gordon Kromberg, wherein Kromberg argued that "there is no solitary confinement" at the ADC in Virginia. He made his statement before seeing the witness submission of Eric Lewis, lawyer for Reprieve who testified about his clients' experience under SAMs and in solitary at the ADC. Dr. Blackwood would only say that he accepts there is a range of opinion as far as solitary confinement, but he agreed broadly that placing Assange in solitary confinement under SAMs, which would virtually bar him from communicating with the outside world, would be "deleterious" to his mental health. Dr. Blackwood also agreed that the question should be dealt with by experts on U.S. prisons, which he is not.
Dr. Crosby: "very high risk" of suicide if Assange is extradited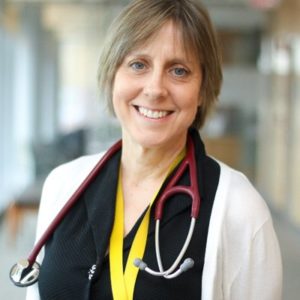 This afternoon we heard testimony from defense witness Dr. Sondra Crosby, an associate professor of medicine and public health at Boston University and an expert on the physical and psychological impact of torture, who visited Assange in the Ecuadorian Embassy in London, beginning in October 2017.
In January 2018, Dr Crosby co-wrote, "We examined Julian Assange, and he badly needs care – but he can't get it" with the two medical doctors who visited Assange with her:
As clinicians with a combined experience of four decades caring for and about refugees and other traumatised populations, we recently spent 20 hours, over three days, performing a comprehensive physical and psychological evaluation of Mr Assange. While the results of the evaluation are protected by doctor-patient confidentiality, it is our professional opinion that his continued confinement is dangerous physically and mentally to him, and a clear infringement of his human right to healthcare.
Dr. Crosby has also written that her February 2019 visit in the embassy was spied on and her medical notes were taken. "Mr. Assange's right to doctor-patient confidentiality was violated, and his confidential information had been breached," she said.
Testifying by remote video, Dr. Crosby today said that in the embassy, Assange described symptoms of PTSD and psychological distress, and he complained of a number of physical symptoms that Dr Crosby found "very worrisome" but she had no way of performing a necessary physical evaluation at the time.
On the question of whether it would be unjust to send Julian to the United States, Dr. Crosby said, "Assange is at a very high risk of completing a suicide if he were to be extradited."
Proceedings continue tomorrow at 10:00am London time.