June 8, 2023 — Julian Assange's legal battle in the UK hit a roadblock this week as High Court Judge Jonathan Swift unilaterally rejected an appeal of Julian's extradition order on all grounds. This leaves just one avenue at the High Court level remaining for Assange: he now has five business days to submit another request to appeal to a panel of two judges, who will convene a public hearing as to whether they will grant Assange leave of appeal.
Press freedom groups condemn UK decision
Judge Swift ruled against Julian on all grounds, drawing a harsh rebuke from the globally renowned watchdog Reporters Without Borders.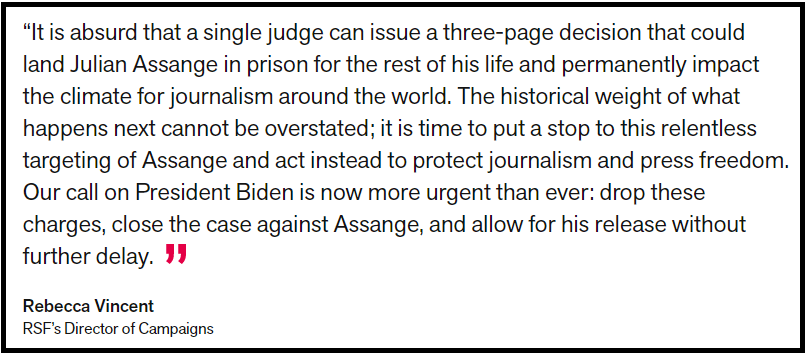 Chip Gibbons, Policy Director of Defending Rights & Dissent, said,
The US government seeks to prosecute Assange for his legitimate journalistic activity that exposed war crimes, corruption, and abuses of power. The prosecution of Assange under the Espionage Act is inherently illegitimate. On top of that, the legal case against Assange is irrevocably tainted by the extralegal war multiple intelligence agencies have waged on the Australian publisher.

The Biden Administration must heed the calls of nearly every human rights and press freedom organization, major newspapers, and members of Congress and drop these charges once and for all.
"The idea of Assange or anyone being tried in a U.S. court for obtaining and publishing confidential documents the same way investigative reporters do every day should be terrifying to all Americans," said Freedom of the Press Foundation Director of Advocacy Seth Stern.
Final High Court appeal
While this ruling is obviously a major setback, it isn't the end of the road. RSF explained,
"This leaves only one final step in the UK courts, as the defence has five working days to submit an appeal of only 20 pages to a panel of two judges, who will convene a public hearing. Further appeals will not be possible at the domestic level, but Assange could bring a case to the European Court of Human Rights."
Julian's wife, Stella Assange, said on Twitter that Assange will submit a renewed appeal request early next week. This request will argue on the same grounds as the previous appeal, which include that the prosecution of Assange is a highly politicized indictment which violates the US-UK Extradition Treaty, which specifically exempts political accusations.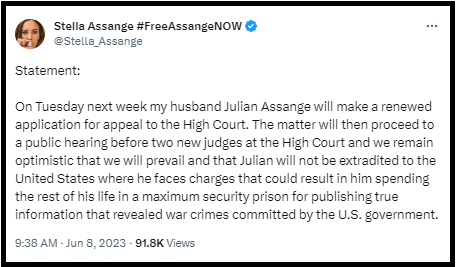 The Solution
The Biden administration can end this case any time it so chooses, and the chorus of voices around the world calling on Biden to #DropTheCharges keeps growing. Australia, a key U.S. ally, has recently reiterated that it wants this nightmare to end; Australian Prime Minister Anthony Albanese personally raised the issue with President Biden, and Albanese has publicly stated that "enough is enough" when it comes to Washington's crusade against Julian.