SEPTEMBER 15, 2020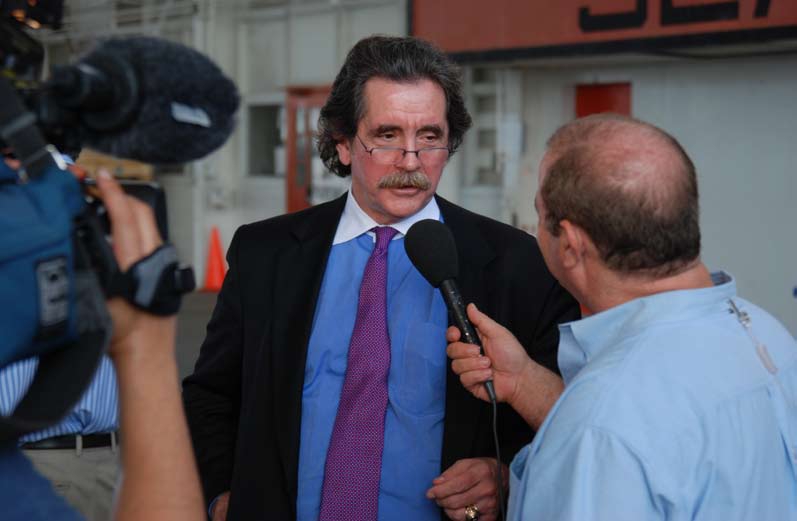 Eric Lewis: Under Trump, Justice Dept. is Prosecutorial Hand of the President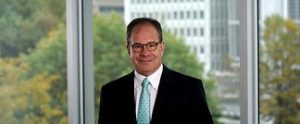 Continuing testimony that began yesterday, U.S. lawyer Eric Lewis explained that under President Trump, the Department of Justice is not an independent agency but rather one that takes its direction from the top down. Lewis said that he isn't questioning the integrity of lower-level prosecutors, but they are taking direction from their Attorney General.
Lewis cited comments from Jeff Sessions, who was US Attorney General at the time Assange's indictment was brought, in which he called Assange's arrest a "priority." The top-down approach continued under William Barr, Lewis said, citing more than a thousand former federal prosecutors who co-signed a statement condemning President Trump's "obstruction of justice."
"Jeff Sessions pressured the Eastern District of Virginia to bring the case. I'm not saying individual prosecutors are acting in bad faith, I'm saying the department is highly politicized and many Americans would agree with that sentiment."
The comments came amid cross-examination, as U.S. prosecutors are attempting to undermine the dense claim that the prosecution of Assange is politically motivated. Lewis pointed again to the fact that the Obama administration made a clear decision not to prosecute Assange in 2013. The facts of the case are from 2010 and 2011 but the U.S. didn't indict until 2018; the only difference between then and now is who is in the White House.
"This case was dormant when the Trump administration began," Lewis said. "The evidence hasn't changed. Witnesses haven't changed. The First Amendment hasn't changed."
175 years in prison
The prosecution also attempted to cast doubt on the claim that Assange would face up to 175 years in prison if he is extradited to the United States. But Lewis said there is significant reason to believe that a judge would sentence him extremely aggressively. Assange would be tried in the Eastern District of Virginia under District Judge Claude M Hilton, who Lewis said is known as a "tough sentencer" and who threw Chelsea Manning in prison for contempt of court when she refused to testify in a WikiLeaks grand jury. Furthermore, U.S. officials have described WikiLeaks' releases as the biggest leak publications in history and has attempted to argue that U.S. adversaries benefited from the releases. Upon Chelsea Manning's conviction of 10 counts under the Espionage Act (whereas Assange faces 17), Lewis noted, the government asked for a 60-year sentence, and she was sentenced to 35.
The prosecution attempted to invoke the Espionage Act cases of whistleblowers Terry Albury, Reality Winner, and Jeffrey Sterling as evidence that these cases often result in shorter sentences. But Sterling himself tweeted in response,
–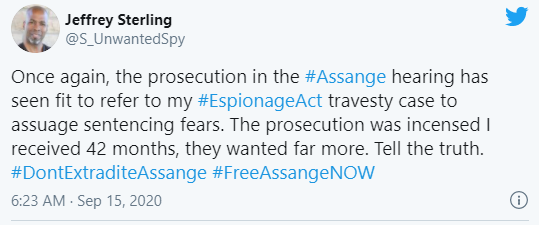 In February, Sterling wrote, "Reject Using My Unjust Conviction Against Julian Assange."
Lewis noted that the U.S. Dept of Justice has made several adjustments to the second superseding indictment that it brought in June 2020. Despite adding no new charges, the indictment adds new language that, Lewis explained, increases the likelihood of a higher sentence. These added factors include other co-conspirators the government alleged were under Assange's direction, reference to a 'Teenager' among those (this refers to Siggi Thordarson, Icelandic informant), "special skills" (here could refer to Assange's alleged computer capabilities), and the fact that the State Department cables allegedly included names of U.S. government employees (at embassies around the world). These all lead Lewis to believe the newest superseding indictment substantially increases a potential sentence for Assange.
Abusive conditions await Assange
Finally, Lewis testified to the conditions Assange would be likely to face in a U.S. prison, both pre- and post-trial. Pre-trial, Assange would be held at the Alexandria Detention Center, and Lewis believes he would be held under both SAMs, which gags a defendant and permits monitoring of attorney-client communications, and the Classified Information Procedures Act (CIPA), which curtails the defendant's ability to review classified documents in his/her case.
It's also highly likely Assange would be held in administrative segregation ('ad-seg), due to his notoriety and mental health issues, and the combination of ad-seg and SAMs would be tantamount to solitary confinement and extremely dangerous to Assange's psychological health. Lewis testified that two-thirds of all incidents of suicide and self-harm among inmates take place in segregated housing.
Tom Durkin: Assange would not get a fair trial in the United States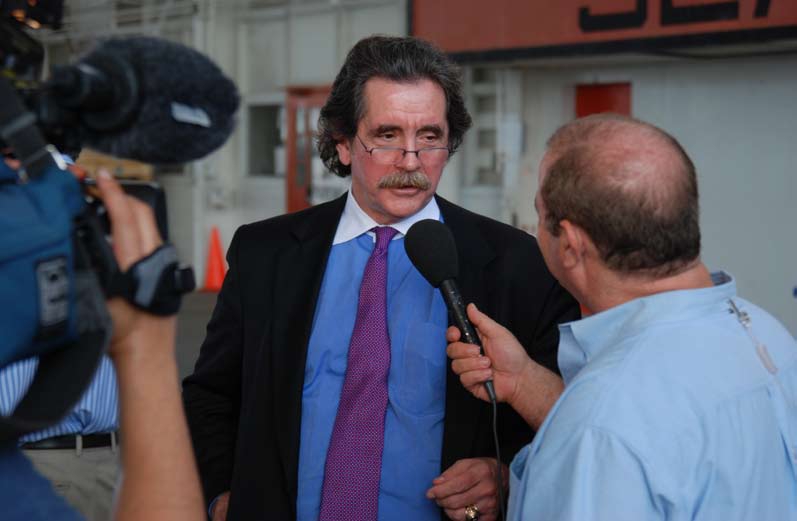 Next, the defense called Thomas Durkin, a criminal defense attorney from Chicago, to discuss how a trial against Assange would play out in the U.S. if he were extradited.
"I don't believe he would be able to get what I would consider to be a fair trial in the U.S.", Durkin said, because the case is the result of a highly politicized prosecution, CIPA restrictions would severely hamper the defense, and there would be huge pressure to accept a plea deal simply to avoid an exorbitant prison sentence.
Durkin corroborated what several witnesses have said thus far, that the Obama administration's decision not to prosecute contrasted with the Trump administration's decision to prosecute several years later, without new evidence, is clear evidence that the case is political.
The CIPA restrictions, he said, would mean Assange would not be able to view classified documents in the case, contrary to what U.S. assistant attorney Gordon Kromberg argued in submissions for the prosecution.
As for the pressure for a plea deal, Durkin testified that there is a built-in incentive to take a plea, in that a "timely guilty plea" automatically takes the sentence down a level within sentencing guidelines, which Durkin referred to as "draconian." This is commonly referred to as a "trial tax," meaning defendants are punished for taking their own cases to trial rather than pleading ahead of time.
Durkin said that the prosecution appears to argue that Assange is more liable than Chelsea Manning, indicating the government would seek a longer sentence than the 60 years it sought for Manning.
Furthermore, Durkin testified that any plea deal would require "full cooperation," meaning the government would very likely require Assange to reveal WikiLeaks' sources in order to obtain a plea agreement.
Tomorrow, former Der Spiegel journalist John Goetz and Pentagon Papers whistleblower Daniel Ellsberg are scheduled to testify.