Appeal hearing concludes as defense dismantles U.S. arguments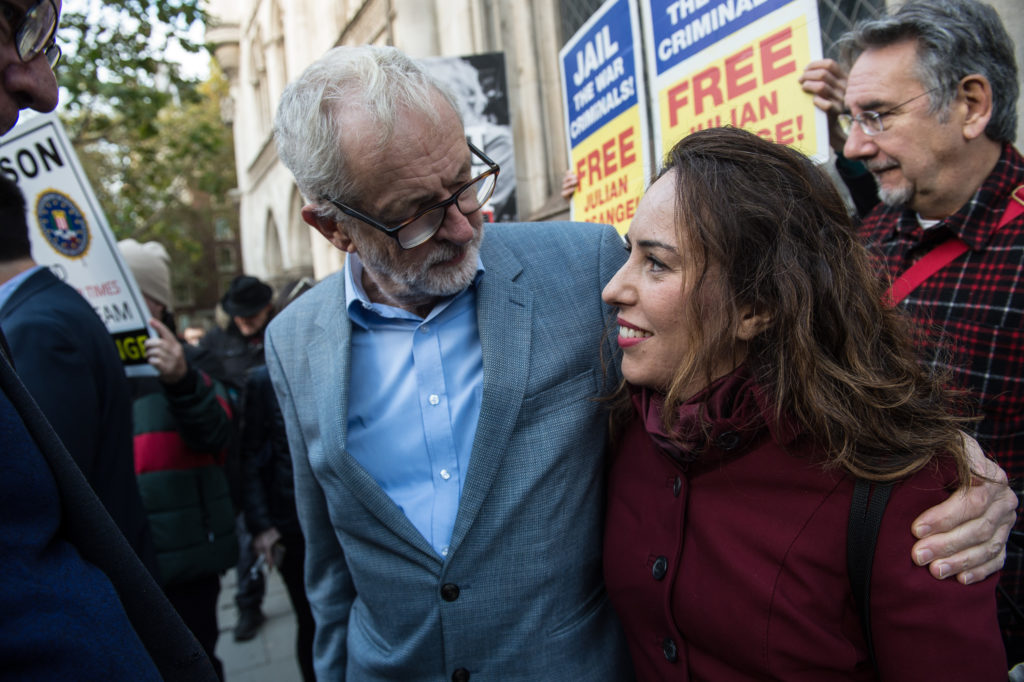 On the second day of Julian Assange's extradition appeal hearing, the defense laid out its arguments to uphold the District Judge's ruling which barred Assange's ruling on medical grounds. Yesterday, the prosecution attempted to undermine a renowned psychiatrist, admitted its prison assurances are "conditional," and tried to downplay how harsh Assange's US conditions would be.
Before the proceedings began, Assange's fiancée Stella Moris clarified some misreporting about Julian's condition. "Reports that Assange didn't attend court in person due to medication are incorrect," she wrote. "He asked to appear in person. The request was rejected. The medication interfering with his ability to follow has nothing to do with the fact he wasn't permitted to attend court."
Edward Fitzgerald, Barrister for the defense, addressed grounds 1, 3, and 4 of the U.S. appeal, all dealing with evidence surrounding Assange's mental health and whether his psychiatric condition and prospective treatment are so oppressive so as to render an extradition unjust. In the afternoon, Mark Summers QC addressed grounds 2 and 5, comprising the U.S.'s claims of assurances that Assange wouldn't be placed in the most severe and isolating conditions in a U.S. prison.
Fitzgerald argued that in her January 4, 2021 ruling, District Judge Vanessa Baraitser carefully weighed defense and prosecution testimony and evidence, applied the appropriate test based on relevant case law (Turner v. USA), and reasonably found overwhelming evidence supporting the finding that ordering his extradition would put him at grave risk of suicide. She found that Assange is severely depressed, that a "single-minded determination" resulting from his Asperger's Syndrome would reduce his capacity to resist suicide, and that these factors combined with the prospect of an all-but-guaranteed oppressive prison regime and life sentence in the United States put him at grave risk of suicide should his extradition be ordered.
To highlight just how justified Assange's fears have been, Fitzgerald also reminded the court of the recent Yahoo News revelations, based on conversations with more than 30 former government officials, that the CIA under the Trump Administration made serious plans to kidnap and even assassinate Julian Assange while he was in the Ecuadorian Embassy in London.
Because the prosecution spent such a considerable portion of yesterday's proceedings homing in on the fact that Dr Michael Kopelman, the psychiatrist who evaluated Assange over the course of many in-person interviews, initially omitted the fact that Julian was in a relationship with Stella Moris, Fitzgerald again explained how misleading it is to call this deceptive. Kopelman made the court aware of this fact well before the September 2020 extradition case, the judge addressed this in her ruling, and she explicitly said that she "did not accept that Professor Kopelman failed in his duty to the court."
Fitzgerald also countered the prosecution's off-hand comment from yesterday suggesting Dr. Sondra Crosby's testimony should be ignored because she "is just a GP and a friend of Assange's." He explained that Dr. Crosby is an expert on physical and psychological impact of torture who took an interest in the case due to its severe and unusual nature.
Finally, the prosecution said that Dr. Kopelman was the only doctor to find Assange is on the autism spectrum. The judge's ruling directly contradicts that. Dr. Quinton Deeley, a consultant developmental neuropsychiatrist at the National Autism Unit at Bethlem Royal Hospital, "found that he met the diagnostic criteria for an autism spectrum disorder albeit that his was 'a high functioning autistic case' and Asperger's syndrome disorder," the judge wrote.
Assurances are inadequate and unreliable
After the lunch break, Summers argued for the defense that the prosecution's "assurances" regarding the prison conditions Assange would face in a U.S. prison pre- and post-trial cannot be trusted, and are inadequate even if they could be.
The defense argues that the U.S. assurances regarding prison conditions:
are late, having been given after the District Judge ruling (after the evidentiary stage)
address only 2 of the 7 bases for the finding of a substantial risk of suicide
don't even adequately address the limited issues they purport to address
can't be considered in good faith when considering the U.S. vindictiveness, particularly the CIA's vituperative plans
The prosecution has argued that the judge should have notified them ahead of time that she was "minded" to find Assange's suicide risk to be too high, so that they could have provided these assurances during the evidentiary stage. But as Summers points out for the defense, Special Administrative Measures (SAMs), solitary confinement, and ADX Florence were continuously points of discussion throughout the extradition hearing. The U.S. could have taken them off the table at any time. The judge addressed this very point in her ruling, noting that "[US attorney and witness] Mr. Kromberg acknowledged that their imposition is possible."
But even taking the assurances at their word, "The newly proffered and conditional assurances do not in fact remove the real risk of detention on SAMs or on ADX. They certainly do not remove the very real risk of detention in administrative segregation."
The assurance that Assange wouldn't be subject to SAMs actually "does not prevent the imposition of SAMs at all. It expressly reserves to the USA the power to impose SAMs on Mr Assange 'in the event that, after entry of this assurance, he was to commit any future act that met the test for the imposition of a SAM."
By focusing so narrowly on SAMs and the ADX Florence, the prosecution is attempting to skirt the fact that U.S. prisoners not in those conditions face isolation in many other ways. "The assurances attempt to address one notorious prison regime and one notorious prison," the defense argues, "and say nothing about any of the other severely isolating prison regimes or other notorious prisons in the USA about which the DJ heard copious evidence."
The prosecution would later attempt to counter this point by suggesting the U.S. Bureau of Prisons doesn't practice solitary confinement. Administrative Segregation (AdSeg) can't be considered solitary confinement, Lewis said, because Assange would be allowed to visit with his lawyers. But anyone with any familiarity with U.S. prison conditions sees past these euphemistic disguises. The National Immigrant Justice Center, a U.S.-based human rights organization, writes,
"The hole, AdSeg, protective custody, SMU, SHU—are all terms used to refer to solitary confinement, a form of incarceration where a prisoner is locked up for 23 hours a day with little or no human contact. Prisons often hide behind these rhetorical labels to avoid scrutiny under legal sanctions that prohibit indefinite placement in solitary confinement and require due process for those who are sentenced."
The defense also notes that the ADX assurance "bizarrely promises not to detain at ADX 'pre-trial' – something which could never happen (ADX is a post-conviction establishment)" and "does not in fact prevent post-conviction detention at ADX."
"The evidence is overwhelming that regardless of SAMs, and regardless of the ADX, if extradited, Julian Assange is surely headed for extreme isolation, pre- & post-trial," Summers said. Even if acquitted, after pre-trial solitary confinement and a lengthy trial, Assange could be re-arrested and could face isolation all over again.
The prosecution has pointed to shorter sentences of Jeffrey Sterling (3.5 years), Daniel Hale (3.75 years), and Reality Winner (5.25 years) as evidence Assange might not get decades in jail. But the obvious corollary should be Chelsea Manning's sentence, as she leaked the very documents Assange is charged with publishing and Assange is alleged to have conspired with her. Chelsea was sentenced to 35 years, which would amount to a life (or death) sentence for Julian.
This is particularly relevant to the US assurance that Assange could be transferred to an Australian prison. This assurance elides the fact that Assange's U.S. case would very likely cycle through many appeals and span many years. "On the evidence," the defense argues, "Mr Assange will most likely be dead before [this assurance] can have any purchase, if it ever could."
But the U.S. cannot be trusted to keep the assurance about transferring Assange to an Australian prison even if it did have purchase. Summers cited the case of David Mendoza Herrarte, where a Spanish court was given assurances that Mendoza could serve his prison sentence in Spain if he were extradited to face trial in the United States first. In that case, the U.S. promised to send him to Spain, but when it came time to approve the prison transfer, the DOJ denied it. The Spanish court believed that the U.S. government was giving the assurance, but the U.S. then said that the prosecutor had only assured that Mendoza could apply for a transfer, and the DOJ reserved the right to deny it.
Assurance cannot be trusted, Summers said, when it is caveated, it is conditional, and it is insufficient." Furthermore, assurances cannot be trusted from the same government that made serious plans to render, kidnap, and even discussed killing Julian Assange.
The appeal proceedings then adjourned, at 4:30pm London time, with the judges closing that both parties have "given [them] much to think about." No timeline was given for a decision, but we expect it to take weeks if not months. We'll report back here as we learn more.