July 5, 2022 – Last week, the International Federation of Journalists launched a new global campaign to call on the United States to drop all charges against publisher Julian Assange.
The IFJ is the largest association of journalists' trade unions worldwide, representing over half a million media employees from 187 organizations in 146 countries. Assange, a member of Australia's Media, Entertainment, and Arts Alliance (MEAA), is an international press card-carrying member of the IFJ.
In its announcement of the new campaign, the federation explains,
"The IFJ is gravely concerned about the impact of Assange's continued detention on media freedom and the rights of all journalists globally. The US pursuit of Assange against the public's right to know poses a grave threat to the fundamental tenets of democracy, which are becoming increasingly fragile worldwide. Irrespective of personal views on Assange, his extradition will have a chilling effect, with all journalists and media workers at risk.

The case sets a dangerous precedent that members of the media, in any country, can now be targeted by governments, anywhere in the world, to answer for publishing information in the public interest."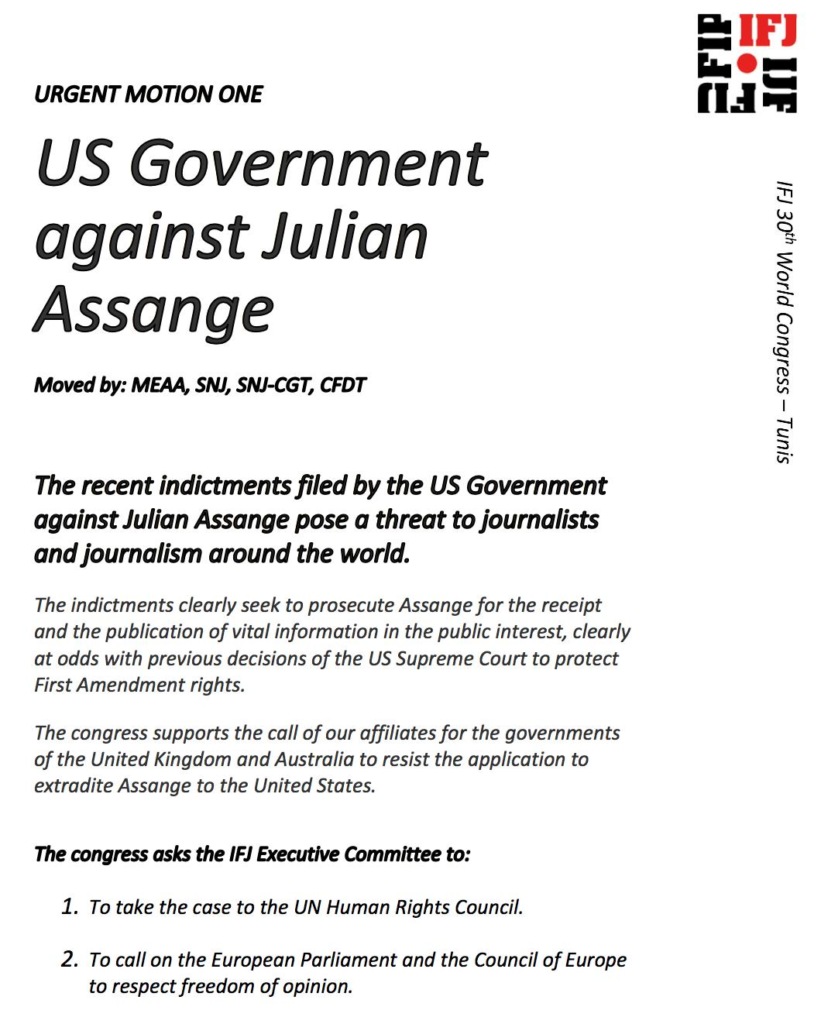 Following a timeline of WikiLeaks' work, Assange's journalism awards, his political asylum, and the U.S. persecution, the IFJ encourages media unions around the world to take action to fight back against a grave threat to their profession. IFJ has prepared a model letter for unions around the globe to sign and send to their local U.S. embassy.
The IFJ also calls on unions to urge their members to cover Assange's case. "Organise a meeting, a rally, a press conference to highlight the implications of Assange's extradition in the US on freedom of the press and the public's right to know."
Finally, the IFJ has posted video statements from key union leaders, including Dominique Pradalié, President of the IFJ; Sadiq Ibrahim, President of the Federation of African Journalists; Zuliana Lainez, President of the Federación de Periodistas de América Latina y el Caribe; Maja Sever, President of the European Federation of Journalists; Sabina Inderjit, President of the Federation of Asia-Pacific Journalists; and Karen Percy, president of MEAA.
The IFJ's statement closes,
"The IFJ is calling on the United States government to drop all charges against Julian Assange and allow him to return home to be with his wife and children. The IFJ is also calling on all media unions, press freedom organisations and journalists to urge governments to actively work to secure Assange's release. #FreeAssangeNOW"