Just days before Julian Assange returns to court in London as the United States government appeals his extradition decision before the UK's High Court, supporters are calling for Assange's freedom at rallies and vigils across the United States and around the world.
What's Next for Julian Assange?
Will revelations of the CIA plots to kidnap or kill Assange and of the key FBI prosecution witness admitting he lied have an impact on the October 27-28 UK extradition hearings? Julian's life and the future of a free press rest on this case.
Julian's brother Gabriel Shipton and editor at The Grayzone Max Blumenthal remotely join attorneys Margaret Kunstler and Deborah Hrbek for discussion with WBAI radio host and moderator Mimi Rosenberg.
---
Repressing Free Speech: From Hip Hop to Julian Assange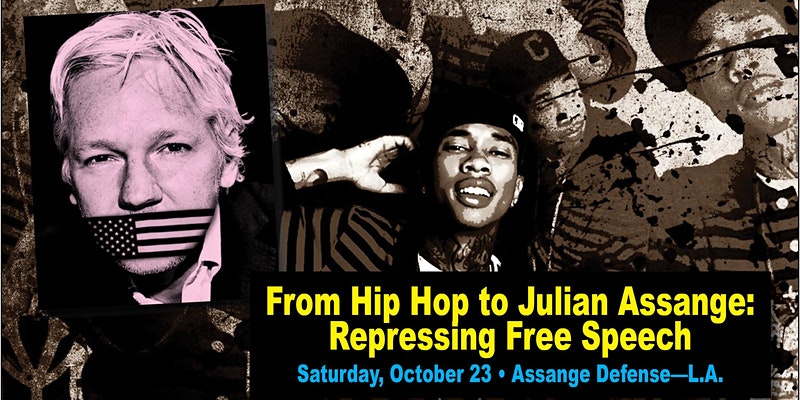 The LA Assange Defense group has put together a fantastic program hosted by author and USC Law Professor Jody Armour, with rappers drawing connections between threats to their own free speech and Assange's journalism, weaving together new performances, interviews with whistleblowers, and a discussion about freedom of expression.
---
Rally under Oakland's Grand Lake Theatre marquee!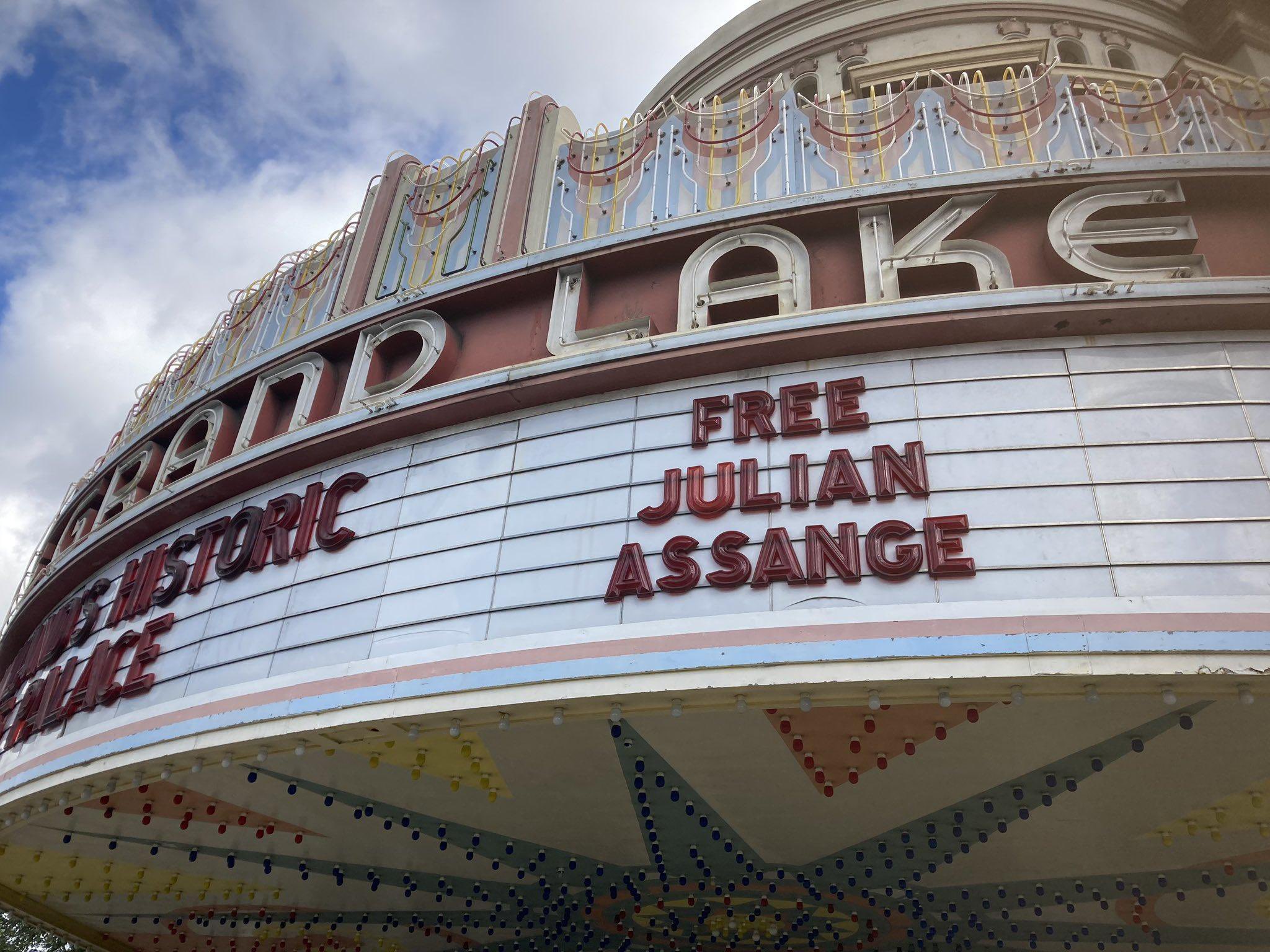 Speakers:
Nozomi Hayase, Author, "WikiLeaks, the Global Fourth Estate: History is Happening"
Dennis Bernstein, Host, KPFA's Flashpoints (Via taped message)
Cynthia Papermaster, CodePink/Women for Peace
Rick Sterling, Task Forces on the Americas; Syria Solidarity Movement
Marsha Feinland, Bay Area Peace and Freedom Party
Francis Collins
Ustade Kaderi, Haiti Action Committee
Nic deLaRiva, ANSWER Coalition
Gloria La Riva, First VP, Pacific Media Workers Guild
John Holmes, member, Pacific Media Workers Guild, Bay Area Committee four Julian Assange
Anthony Fest, KPFA, reading Mickey Huff Project Censored and Media Freedom Alliance statement
Shahid Buttar, activist/organizer
James McFadden, Research physicist, UC Berkeley. Green Party
Judy Greenspan, International Action Center
Roger Harris, U.S. Peace Council; Alex Saab Defense Committee
Gerald Smith, Labor Action Commtitee to Free Mumia Abu-Jamal
Rally Co-chairs
Jeff Mackler, AssangeDefense.org; United National Antiwar Coalition
Andrew Kodama, Exec. Dir. Mt. Diablo Peace & Justice Center
Taped greetings from…
Alice Walker, Pulitzer Prize novelist
Daniel Ellsberg, Pentagon Papers whistleblower
Mumia Abu-Jamal, investigative journalist/political prisoner
Noam Chomsky, author & historian
---
Denver rally and Congressional action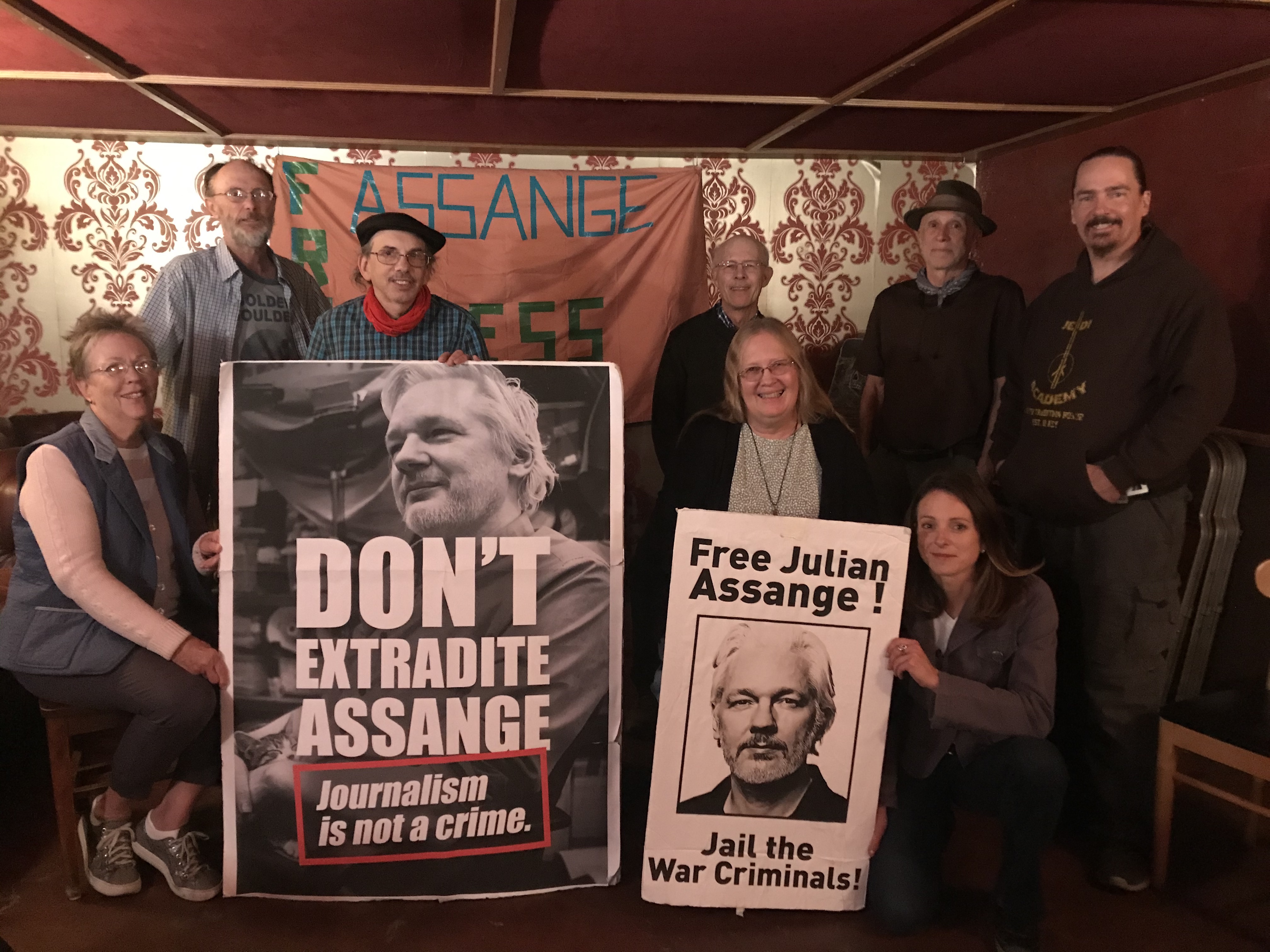 Colorado supporters called their representatives to ask them to protect the First Amendment and call on Attorney General Merrick Garland to drop the charges against Assange.
---
Milwaukee rally and music performance
George Martin compares Darnella Frazier and Julian Assange
Full video: October 22 rally
Guitarist Chris Borg performed and activist Ann Batiza spoke out in defense of Julian Assange and a free press in Milwaukee, WI.
Stand for Peace: October 23
---
War on Terror Film Festival
Veteran journalist and Associate Editor of The Electronic Intifada, Nora Barrows-Friedman, hosts a discussion with director of Fahrenheit 9/11, Michael Moore, along with co-director of The War You Don't See, John Pilger, public intellectual Noam Chomsky, and attorney and partner of Julian Assange, Stella Moris.
---
Stand Ups for Assange NYC
Part 2 of the Stand-Ups for Assange featuring Lee Camp, Randy Credico, and Katie Halper!
Special remarks from Margaret Kimberley and Margaret Kunstler!
Roger Waters and Cornel West
---
ACLU Capital U. Law panel on Julian Assange
Panelists:
Gabriel Shipton – Brother of Julian Assange
Juan Passarelli – Journalist & Film Maker of "The War on Journalism"
Stephen Rohde – Former Chair of ACLU So. Cal. & Attorney with 50 years experience in Constitutional/Civil Rights Law
Misty Winston – Assange Activist & Host of "Action 4 Assange"
Moderator:
Chris Licameli – Capital Law ACLU Evening Rep. & Founder of Unified People's Coalition
---
Espionage Act Panel: The Prosecution of Julian Assange and the Threats to Freedom of the Press and Human Rights
---
Film screening & Discussion:
The War on Journalism: The Case of Julian Assange