November 28, 2022 — Marking the 12th anniversary since they worked with WikiLeaks to publish the State Department Cables, the Guardian, El Pais, Le Monde, Der Spiegel and The New York Times come together to oppose the U.S. prosecution of Julian Assange.
The five media organizations that first helped WikiLeaks' founder Julian Assange publish leaked diplomatic cables have penned an open letter telling the U.S. government it must drop his prosecution because it is undermining press freedom.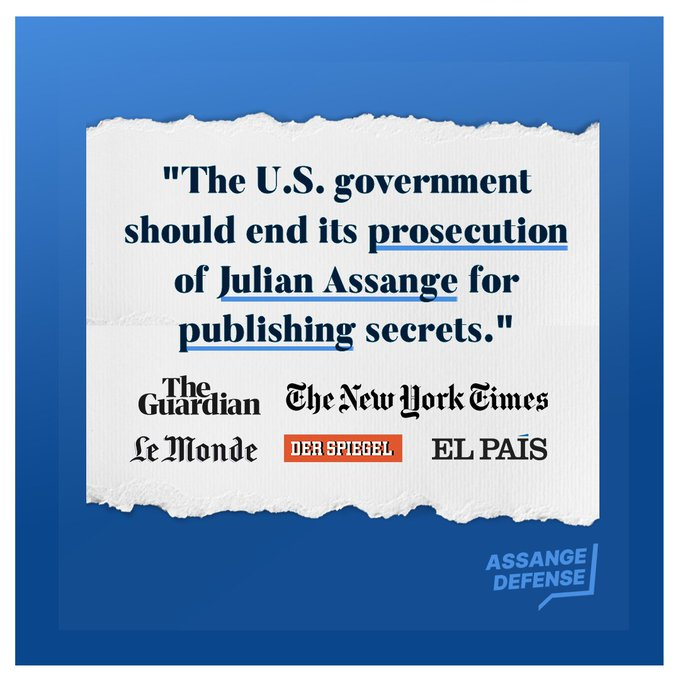 The letter reads:
"Cablegate", a set of 251,000 confidential cables from the US state department, disclosed corruption, diplomatic scandals and spy affairs on an international scale.

For Julian Assange, publisher of WikLeaks, the publication of "Cablegate" and several other related leaks had the most severe consequences. On April 12th 2019, Assange was arrested in London on a US arrest warrant, and has now been held for three and a half years in a high-security British prison usually used for terrorists and members of organised crime groups. He faces extradition to the US and a sentence of up to 175 years in an American maximum-security prison.

This indictment sets a dangerous precedent, and threatens to undermine America's first amendment and the freedom of the press.

Obtaining and disclosing sensitive information when necessary in the public interest is a core part of the daily work of journalists. If that work is criminalised, our public discourse and our democracies are made significantly weaker.

Twelve years after the publication of "Cablegate", it is time for the US government to end its prosecution of Julian Assange for publishing secrets.

Publishing is not a crime.
More coverage
Forbes | 'White House Asked Point Blank About New York Times Urging US To Drop Charges Against Julian Assange'
The Nation | 'A United Front Is Needed to Fight the Threat to Journalism Posed by the Assange Prosecution'
"…at this critical juncture there should be no lack of clarity regarding the extradition charges against Assange. That's why it is important that the message of the IFJ's "Journalism is Not a Crime" campaign be amplified—not just by media outlets and journalists but also by civil rights and civil liberties groups. Last year, the ACLU, Amnesty International USA, and Human Rights Watch warned the Justice Department that "a precedent created by prosecuting Assange could be used against publishers and journalists alike, chilling their work and undermining freedom of the press."
Truthdig | 'Journalists Push Biden to Free Julian Assange'
"The conduct for which Assange is accused of breaking the law is exactly what the new DOJ regulation defines as protected "news gathering"; namely "the process by which a member of the news media collects, pursues or obtains information or records for purposes of producing content intended for public dissemination," including "classified information" from confidential sources. The Justice Department is also said to have removed "espionage" from a list of criminal activities excluded from protected news gathering.

If the Biden administration means what it says, it should immediately reverse one of the worst legal excesses of Donald Trump's term. The indictment of Assange is the first time in the 230-year history of the First Amendment that a media organization is being prosecuted for publishing or disseminating classified information disclosed by a whistleblower. Since founding Wikileaks, Assange has been in the business of gathering and publishing newsworthy information and documents, activities clearly protected by the First Amendment."