April 11
@
4:00 pm
–
6:00 pm
America/Washington DC
Come to the US Department of Justice to tell the Biden Administration that 4 years of imprisonment for Julian Assange without a conviction is 4 years too long.
Come to stand up for Freedom of the Press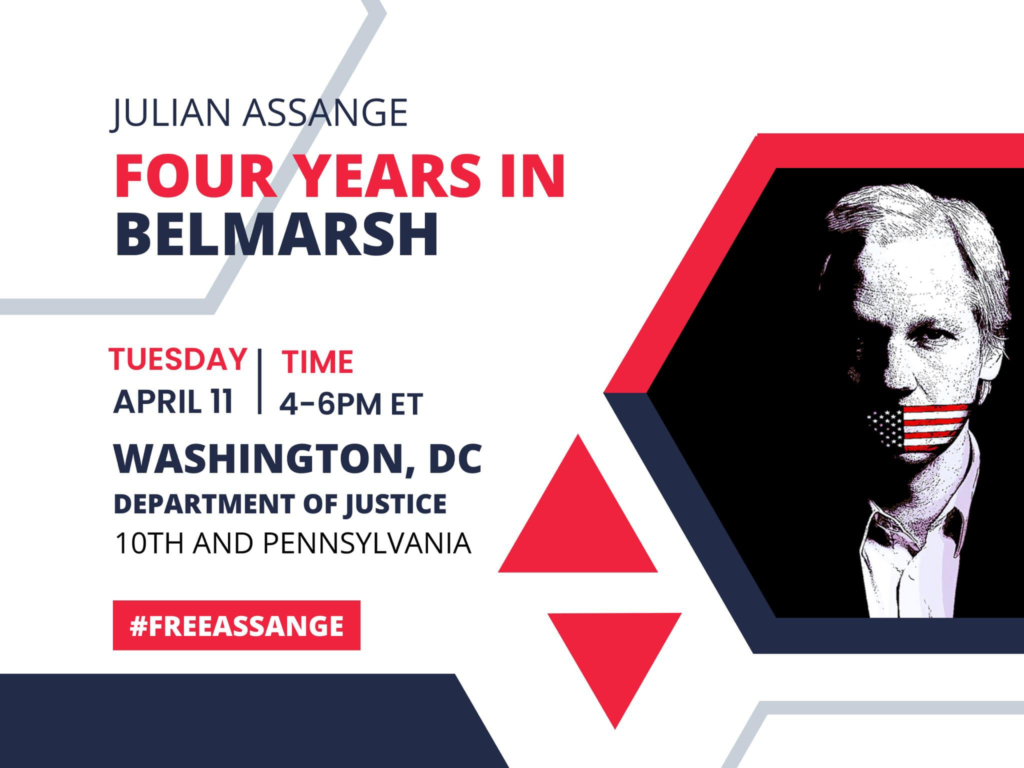 April 11 marks the four-year anniversary of the arrest of journalist and publisher Julian Assange.
Join activists and supporters from around the country gathering in Washington, DC to demand the charges against Assange be dropped.
Department of Justice 'Free Assange Rally'
Tuesday April 11, 4-6pm
Pennsylvania Ave at 10th St, NW
What's happening to Julian Assange is happening to all of us. It's the criminalization of truth. The world is watching and the tide is turning. Journalism is not a crime.
Also please join us, same day for "Assange Lobby Day"
At 10am, we will meet in the cafeteria lower level of the Rayburn House Office Building to divide into small groups then lobby at select offices.
Rayburn HOB April 11, 10-2pm
45 Independence Ave SW
As we meet with our representatives, we will ask them to co-sign Representative Rashida Tlaib's letter to Atty General Merrick Garland demanding that he drop all charges against Julian Assange.
Let's be Julian Assange's voice – silenced since April 11, 2019 – let's defend his rights and our First Amendment rights!
See you on April 11th in Washington, DC­ – Free Assange NOW!