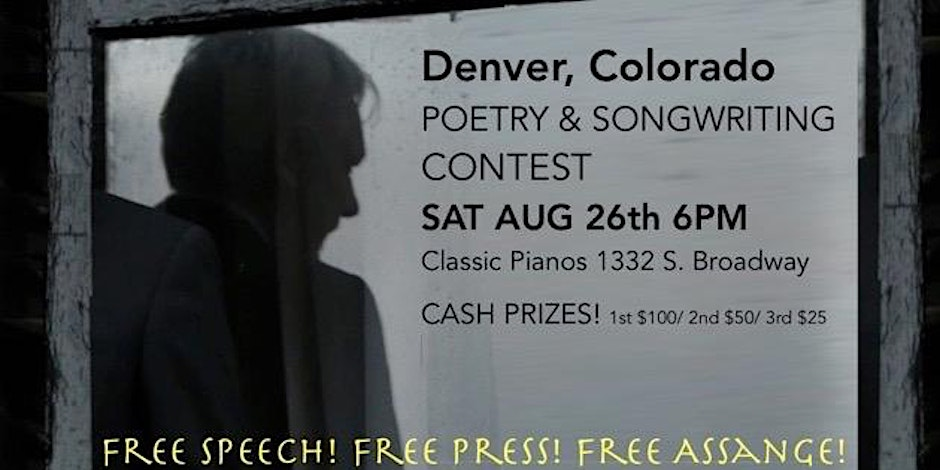 Calling all Denver writers, Denver bards, songsters, versifiers, tune-smiths, lyricists, laureates, stand-up comics, hip-hop, free association, spoken word, slammers and extempore rappers.
A horror is dangling like the sword of Damocles over all of humanity.
At stake is both a courageous man's life and, if we remain silent, the conquest of our intellects, our sense of right and wrong, and indeed, our very humanity.
So let us look at ourselves, if we have the courage, to see what is happening to us.
The US, UK, and Australia are colluding to extradite a journalist for exposing the truth.
Their collusion to persecute Assange for exposing uncomfortable truths has revealed their free press and free speech rhetoric to be nothing more than a facade.
Who among us is prepared to stand up rather than remain bystanders to the epic travesty that is the judicial kidnapping of Julian Assange?
Julian Assange has done the greatest public service of any journalist of our times.
He documented repeat lies, callous disregard of human life, rampant corruption and innumerable war crimes.
Freedom of the press is just the tip of the iceberg. All people who oppose empire are at risk.
The corporate, military, and governmental forces imprisoning, torturing, and slowly killing Julian Assange –and many others — are the forces also in the process of destroying life on the planet.
Denver Poets, Denver Songwriters, we ask for your voices and your suffrage's!
Heed the call!
Employ your skills!
We'll record the event and send around the world!
6pm sign-in/ 7pm start
$100 first; $50 second; $25 third!
Free entry- each contestant will have 10 minutes.
Topic is free press, free speech, free Assange.
Winners will be decided by the audience!
We all owe this man a tremendous debt.
Even when it was terrifying. Even when it meant being locked away, silenced, smeared, hated, and unable to hold his children, Julian Assange published the truth.
The ruling class is crucifying him for this.
The least we can do is try our best to set him free.
Let's get him free.
Free Julian Assange