August 1, 2022
@
11:00 am
–
12:30 pm
EDT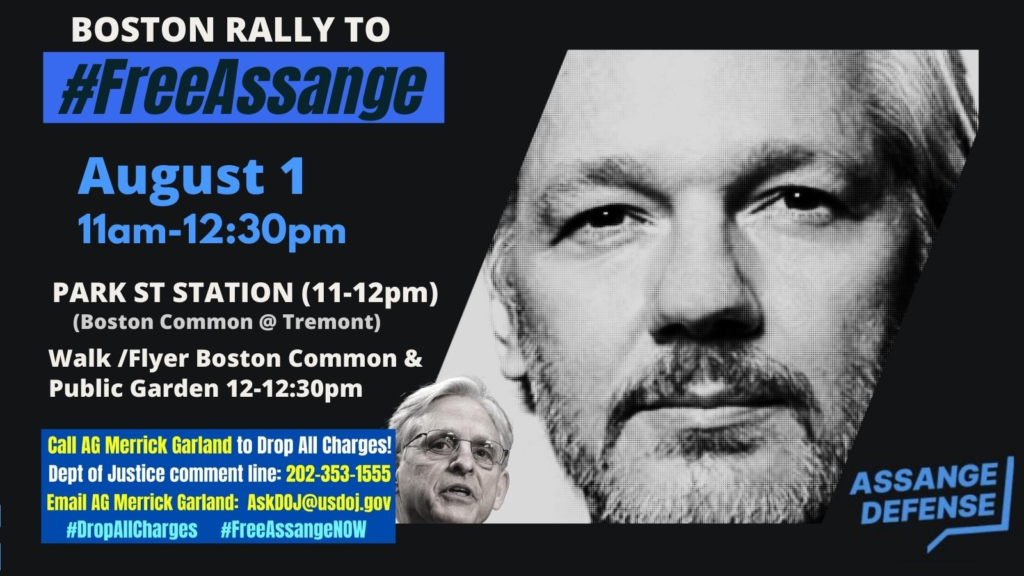 Boston Area Assange Defense continues its efforts to wake up Americans on the Assange case!
In our small corner of the world, here in Boston, we do our small global part in freeing Julian Assange and protecting our First Amendment!
Don't know who Julian Assange is and why this case matters?
Take a minute (or 10) and have a look at these short videos:
In less than 1 minute:
In less than 10 minutes:
There's been a groundswell of support and actions to Free Assange around the world, but one wouldn't know this as the media continues to blackout this most important press freedom case of the century.
Oct 8, an 'human chain' will circle around London parliament to free Assange!
Here are a few updates because news on this case matters:
July 1st, Assange's defense filed appeal on 16 grounds. Wait begins for High Court's decision to accept or deny defense appeals.
July 12, Boston tabled at Roger Waters 'This Is Not A Drill' tour (part of national campaign to table for Assange at most Waters' tour venues across the US):
July 12, President of Mexico Lopez Obrador (AMLO) sent a letter to President Biden renewing his offer to grant Assange asylum and requesting Biden exonerate Julian Assange.
Representative Rashida Tlaib (D-MI) introduced an amendment to the annual National Defense Authorization Act (NDAA) which would reform the Espionage Act:
We encourage others to join us Monday, August 1st at Park St Station, 11am-12pm and between 12-12:30, walk thru the Common and Public Garden with signs and flyers.
You too, might be inspired to speak up for press freedom, speak out against injustice, and take action as Allen Perez did:
Help raise awareness to this important press freedom case and stop this unconstitutional US extradition of a journalist and publisher.
Help us Free Julian Assange.
Contact:
Paula Iasella AssangeBoston@gmail.com
or SusanBMcL@gmail.com 617-501-9125