July 11, 2022
@
11:00 am
–
12:30 pm
EDT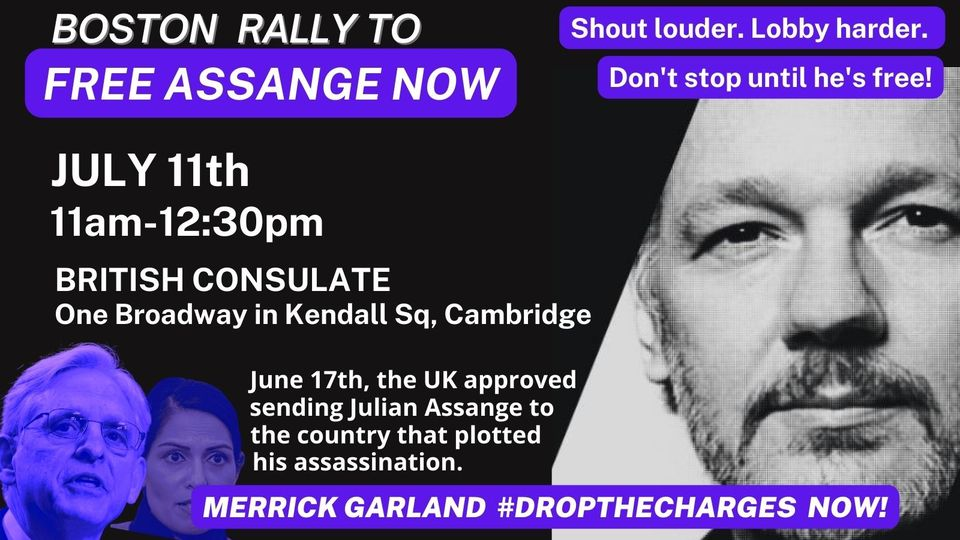 Supporters of our First Amendment return to the British Consulate at One Broadway in Kendall Sq Cambridge on Monday July 11th, 11am-12:30pm to protest the UK signing off on the US extradition of journalist and publisher, Julian Assange.
Julian Assange the founder of WikiLeaks, published thousands of documents showing evidence of US war crimes. Videos of these crimes in this thread.
These publications won international awards but a decade later these same documents became the US government's grounds to prosecute Assange under the Espionage Act of 1917. Journalist Chip Gibbons explains this repressive law that is used to suppress dissent.
This short video by Stella Assange, Julian's wife, covers the key points of the Assange case.
Every day more and more individuals and organizations come forward calling on the UK and US to stop this prosecution.
Geneva Press Club calls for Assange's freedom. Please sign their petition.
And Media Entertainment & Arts Alliance (MEAA) president Karen Percy called on Australia's new PM Anthony Albanese to intervene and stop the extradition.
The Chair of the Walkley Foundation (Australia's 'Pulizer Prize') Adele Ferguson has called on the Australian Government to intervene in the case of Julian Assange.
Articles are now surfacing on ex Secretary of State/CIA director Mike Pompeo having been summoned by the Spanish High Court to testify on the CIA spying and plotting to assassinate Assange – except here in the United States where the media is burying the story!
Stella Assange reported that Julian was strip searched and put in a bare cell with no visitors after UK Home Sec Priti Patel ruled to extradite him to the US.
"Shout louder. Lobby harder. Don't stop until he's free!"
Please join us on Monday, July 11th at the British Consulate in Cambridge to say 'No!' to Britain's treatment of political prisoner Julian Assange, and say 'No!' to US imperialism which has made the UK complicit in this illegal extradition of political prisoner. We must all stand up and fight to stop this extradition because journalism is not a crime, and the prosecution of Julian Assange will criminalize investigative journalism and threatens any person handling classified material.
Contact:
Paula Iasella AssangeBoston@gmail.com
or SusanBMcL@gmail.com 617-501-9125