August 22, 2022
@
11:00 am
–
12:30 pm
EDT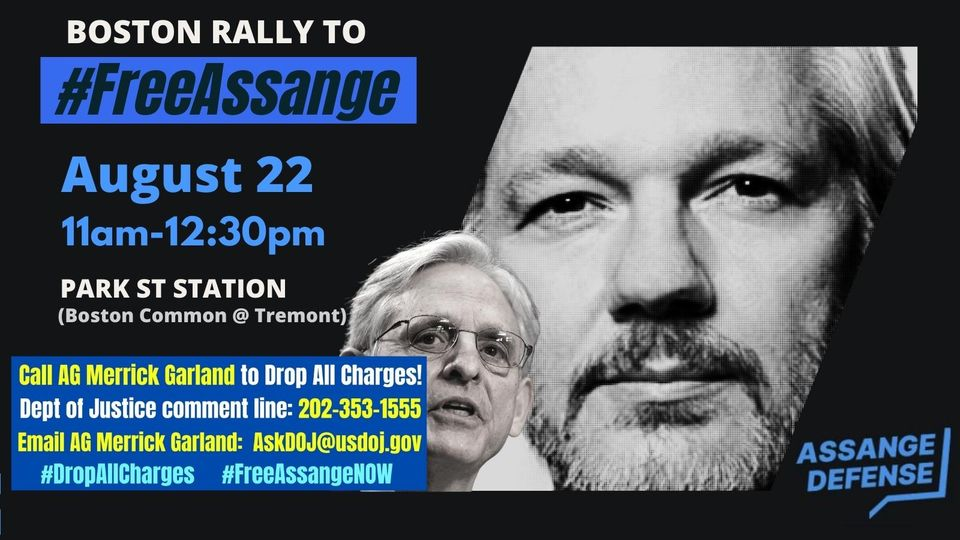 Monday, August 22nd, 11am-12:30pm, Boston Area Assange Defense and fellow supporters will rally at Park St. Station to raise awareness of the US government's war on publisher Julian Assange and its war on investigative journalism. The Biden administration continues with Trump's unconstitutional prosecution of a journalist under the Espionage Act.
The government and its media would like us to believe that Assange is a 'national security terrorist' instead of a publisher of truth and defender of human rights.
Assange didn't publish National Security 'secrets', he published US 'war crimes'.
It's unlikely that Americans will know how WikiLeaks publications are used in thousands of court cases globally to right corporate and government wrongs! For example, the US Senate last week passed the Burn Pits restitution Act (aka PACT Act). Assange's contribution to this case cannot be denied. It was Julian Assange through WikiLeaks that published a memo in 2009 (that was suppressed by the Pentagon!) which revealed the US military was exposing its personnel and civilians to lethal toxic fumes. President Biden's son Beau developed brain cancer because of exposure to burn pits when he served in Iraq.
Roger Waters is touring this year with Pink Floyd's 'This Is Not A Drill'. A long-time supporter of Julian Assange, he creatively presents WikiLeaks' 'Collateral Murder' in a series of light projections which show US soldiers gunning down innocent civilians in Iraq. Text across the video footage reveals that only those who exposed these crimes have been punished while no one was court martialed for the killing spree. Roger Waters has invited #FreeAssange activists to set up information tables nationally at EVERY venue!!
Breaking News! Watch for the August 15th Press Conference which unveils Assange's US lawyers suing Mike Pompeo, ex-CIA head, and the CIA's contracted security firm for stealing lawyer-client privileged communications.
Please join us on Monday, August 22nd at Park St. Station, 11-12:30pm. We must all stand up and fight to stop this US extradition because journalism is not a crime, and the prosecution of Julian Assange will criminalize investigative journalism and threaten any person handling classified material. The decision to extradite Assange to the country which plotted to assassinate him hovers like a stake over the heart of press freedom which is essential to a true democracy.
Contact: Paula Iasella AssangeBoston@gmail.com or SusanBMcL@gmail.com 617-501-9125